The health care field is constantly growing and evolving. The systems and technologies in use today were unheard of just a few years ago. Technology moves from development to testing to commonplace faster than many people can keep up. Health care administrators are also subject to these rapid changes and technological innovations. They need to learn to apply new technologies to maximize their health care delivery and organizational performance. The best keep pushing themselves to learn the newly available tools and are excited to adapt to new trends.
One way that health professionals can expand their horizons and increase their knowledge to be more effective is with an Executive Master of Health Administration (EMHA) degree. Knowing what the degree offers can help you decide if it's right for you and your career goals.
What Is an Executive MHA Degree?
An (EMHA degree caters to working professionals who want to advance their knowledge of the health care field. The tracks in an EMHA and an MHA are similar, but the course outlines and styles often differ. EMHA courses cater to full-time professionals. They offer an unparalleled opportunity to distinguish yourself as a remarkable leader in a time of profound change.
The course style isn't the only difference between an EMHA and an MHA. Because EMHA programs cater to professionals in the field, the material can draw on their in-depth experience. Often, previous health care experience is a requirement for students to gain acceptance into the program.
Did You Know?
Students have an average of 10 years of health care experience when they apply for an EMHA degree; plenty of graduates have more or less depending on their career paths.
While full-time graduate students might focus on theory, members of the health care workforce can describe their experiences and actively apply their lessons to their day-to-day lives. Many students believe that work experience reinforces the lessons they learn in the classroom because they see the concepts in action. The curriculum is designed for fast-moving professionals needing to apply theoretical and practical lessons — bringing immediate value both to the students and to their organizations.

Who Can Benefit From an Executive MHA?
Students sign up for Executive MHA programs from a variety of fields. Classes are filled with professionals from diverse backgrounds who can increase the value of discussions and offer their unique insights into the workforce. Typically, the average EMHA student has worked in a field for several years to understand the inner workings of the profession. The average EMHA student is currently in a management role and looking for executive transformative health care leadership opportunities. A few common channels that students come from include the following:
Advanced clinicians in management planning to grow their careers
Insurance professionals looking to advance in their organizations
Senior care professionals affected by Medicaid
Military members who have a health care focus
Nurses looking to take on leadership roles
Professionals who work in health care companies and medical organizations
As you can see, these fields vary widely. A nurse who treats trauma patients brings different experiences to the table than a member of the military, though they may also share similarities. These professionals can teach health care providers and insurance professionals about fieldwork while they learn more about administrative perspectives.
Similarly, EMHA professors come from diverse backgrounds. Students will learn not only from long-term academic professionals but also from people who've spent their careers in the field. Often, these instructors remain mentors long after students graduate.
Through the online EMHA program, students spend just as much time working together and learning from one another as they do listening to their professors. This collaboration makes them effective professionals with a deeper understanding of the field and strong communication skills, and it helps close the gap between online and in-person learning.
What Do EMHA Students Learn?
EMHA programs strive to align their curricula with student needs and the changing health care field, ensuring that their materials are relevant and useful to those who enroll. Students work to become leaders in the health care industry. The programs prepare students for handling both business and patient-facing issues, as they may find themselves responsible for ensuring that the organization they choose to work for runs smoothly while also prioritizing excellent patient care.
Some Executive MHA graduates go on to change how health care facilities are run, improving processes and creating better environments for those who work there. These staff improvements lead to better patient care, better outcomes and a more comfortable environment during likely-stressful times. To prepare students, USC focuses on five key industry goals:
Innovative Leadership: Developing executives who can learn means developing executives who can enact change and motivate people to do their best. Leadership is an essential part of any EMHA program.
Cost-Effective Care: Finance is an essential part of health care administration and a valuable skill for any professional, but it's particularly important for executives in their fields.
Efficient Management and Administration: Data analysis, financial management, Six Sigma and Lean methodologies all help health care organizations operate efficiently, reducing waste and ensuring that projects are completed on time.
Patient Safety and Quality of Care: Better training and coordination of clinical services lead to better patient outcomes and improved health care experiences.
Organizational and Clinical Effectiveness: Students learn about information technology and how these systems can improve patient care, personal data security and office operations.
Emerging Issues: Students discuss and learn about emerging issues in health care financing that federal and state regulatory requirements have brought about.
A high-level understanding of these concepts can better prepare students to succeed in the health care field and improve their current workplaces to provide better patient care.
How Long Does It Take to Earn an EMHA Degree?
Advanced clinicians in management, experienced health care managers, active health care executives and managers service health care clients often find that completing an EMHA can help them take the next step in their careers. However, it's not unusual for aspiring students to have questions about the time to complete their coursework.
The length of time it takes students to complete an online EMHA degree can depend on a variety of factors, such as the credit hour requirement and whether a student is enrolled in part- or full-time coursework. Nevertheless, most full-time students find that they can complete their degree in approximately two years.
Potential Careers and Salary Outcomes
EMHA program graduates can pursue a variety of career paths at the highest levels of leadership.
Chief Executive Officer
CEOs coordinate and direct the activities of the organizations they work for. They manage operations, formulate goals and implement policies. Additionally, CEOs work closely with other C-level executives, such as the chief financial officer (CFO) and chief operating officer (COO). PayScale reports that the average base salary for CEOs was approximately $156,100 annually as of November 2021.
Chief Nursing Officer
Chief nursing officers (CNOs) manage and oversee nursing units to ensure that policies, procedures and guidelines are being followed. Although CNOs don't work directly with patients, professionals in the field guide and oversee the treatment protocols of registered nurses (RNs). PayScale reports that the average base salary for CNOs was approximately $135,800 annually as of November 2021.
Chief Information Technology Officer
Chief information technology (IT) officers oversee the technological needs and operations of their organizations. They assess both short- and long-term needs, predict which types of hardware and software the organization will need in the future, and provide oversight to the IT department. PayScale reports that the average base salary for chief information officers was approximately $168,600 annually as of November 2021.
Finance Director
Finance directors manage and oversee an organization's fiscal health. They oversee budgets and financial reporting; analyze ways to streamline costs and improve profits; and consult with other members of the management team, such as the CFO, about pending or potential financial decisions. PayScale reports that the average base salary for finance directors was approximately $114,300 annually as of November 2021.
What Makes an EMHA Program Successful?
The EMHA degree is modern, challenging and dynamic — much like the health care industry itself. The USC online EMHA degree focuses on specific themes that form the pillars of the program, including the following:
Advancing Careers: Through partnerships with prominent leaders in the health care industry, the USC online EMHA provides unique firsthand experience and mentorship opportunities.
Balanced Life and Learning: Students are able to balance their coursework with their professional workloads and personal lives. They control when they work on their studies and in what time zone.
Supportive Network: Faculty and staff work as resources for students to advance their knowledge. In addition, students form a tight community to learn together and offer insight when others are having difficulty.
Modern Learning Environment: USC uses the latest learning tools and theories to provide the best experiences for students. From understanding social networks and mobile learning to being exposed to modern health care technologies, students are prepared to enter a constantly evolving, technologically advanced health care industry.
Why Should Students Pursue an EMHA Degree?
EMHA and MHA degrees aren't new, but more students than ever are considering advancing their careers to improve the health care industry. Over the past few years, the health care field has changed dramatically and is expected to grow exponentially in the next decade.
The curriculum of the USC online EMHA degree program includes courses such as Managing and Improving Health, Quality of Care Concepts, Managing the Organization's Financial Health, Health Information Systems, and Operations Management Accountability. In addition to participating in courses online, students attend two four-day in-residence sessions. Graduates of the USC online EMHA degree program often find that they've gained the knowledge and in-demand skills needed to be effective, transformative leaders in health care administration.
Did You Know?
According to the U.S. Bureau of Labor Statistics (BLS), employment for medical and health services managers is expected to grow by 32% between 2020 and 2030, adding about 139,600 new jobs. This rate is significantly faster than most other fields in the American economy, and the trends are replicated across the globe.
Many people are attracted to the health care field because of the potential salary. The median annual wage for medical and health services managers was $104,280 in 2020, significantly higher than the national mean
According to The Atlantic, the health care industry became the largest employer in the U.S. at the start of 2018. "In the last quarter," reported The Atlantic, "for the first time in history, health care has surpassed manufacturing and retail, the most significant job engines of the 20th century, to become the largest source of jobs in the U.S."
Multiple factors contribute to this growth. Changes in American health care require additional administration, while population increases mean there are more people to care for. As health care improves, people are living longer, meaning demand for eldercare is increasing.
All of these new employees need leaders. The people who currently work in the health care field will train, manage and organize the employees of tomorrow. A person with the right training, education and experience can make a difference and shape the face of the health care industry.
The USC EMHA degree focuses on creating a generation of knowledgeable health care administrators. If you're ready to take the next steps to grow your career and improve your local health care services, visit the USC Price School of Public Policy and discover how an online EMHA degree program can help you reach your goals.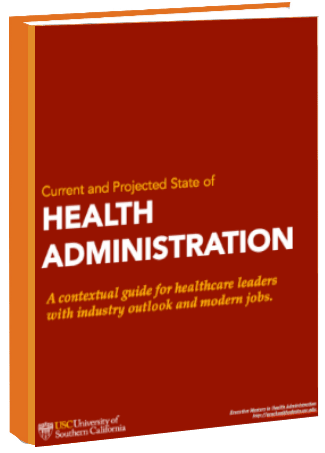 This ebook gives context for modern health administrators to lead transformations in their organizations and enact policies of consequence
Sources:
Houston Chronicle, "What Is a Financial Director?"
Incredible Health, What Is a Chief Nursing Officer?
Investopedia, "Chief Technology Officer (CTO)"
PayScale, Average Chief Executive Officer (CEO) Salary
PayScale, Average Chief Information Officer (CIO) Salary
PayScale, Average Chief Nursing Officer (CNO) Salary
The Atlantic, "Health Care Just Became the U.S.'s Largest Employer"
U.S. Bureau of Labor Statistics, Healthcare Occupations